Fighting climate change requires investments in industrial energy efficiency. ABB and Semantum are collaborating in a project that has the potential to produce massive savings, from both financial and energy efficiency perspective.
Author: Mika Niiniranta
Image: Patrik Pesonen
(Article first published in Finnish, in a decision-maker appendix of Helsingin Sanomat 31.3.2021)
Innovations that increase the efficiency of industrial processes are now in high demand. The global technology company ABB collaborated with Semantum, a Finnish software company specialising in simulations, to get a new perspective on the processes of the Metsä Board Simpele cardboard factory. Although already competitive, the factory still had potential for more than 30% savings in the energy consumption in one of its pumping processes.
Semantum and ABB developed a new method to optimize lifecycle costs by selecting the right components for the process. The dynamic process simulation was performed in a cloud, and the pump, motor and drive were selected on the basis of co-simulation that compared different operating scenarios.
"Dynamic process simulation has been used for at least 40 years, but the novelty in our approach is that we modelled the entire relevant process and used co-simulation to examine different system selections simultaneously. This way, the process could be optimized end-to-end", describes Tommi Karhela, Chairman of the Board of Directors at Semantum.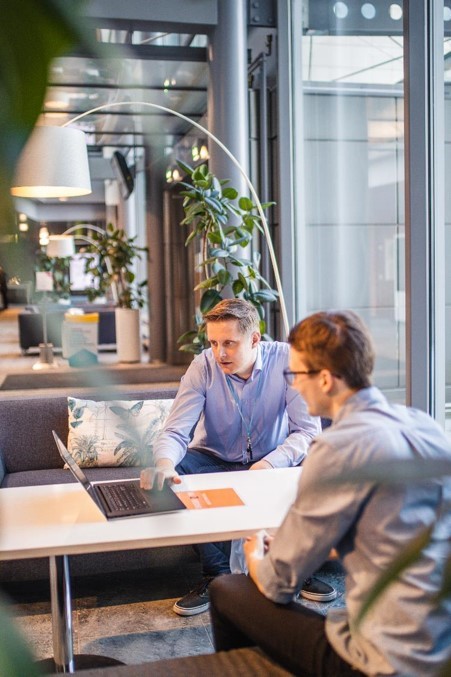 Getting dimensioning right in one go
The project by Semantum and ABB concentrated on modeling the pumping of liquids in an industrial process. The Collaborative Digital Twin method can be used for designing and dimensioning systems in close collaboration with all equipment suppliers. "Semantum and we decided to challenge the traditional approach in which each equipment is dimensioned separately. By comparing the dynamic simulations of a process, we can eliminate unnecessary risk margins", describes Antti Lukkari, Project Manager at ABB.
"Simulation is first and foremost a tool for decision-making. There is an increased need for better decision-making, and dynamic simulation is a rapid and cost-effective method for producing information that supports procurement decisions. Digital Twin could be considered as an effective final adjustment that eliminates any residual slack in the process. – It could well be a part of every decision-making process", adds Karhela.
Mitigating CO2 emissions
The new simulation approach developed by ABB and Semantum will be sold globally. In its recent study, the sustainable development company of Finnish state Motiva estimated that industrial pumping systems consume a whopping 20% of the electricity produced in the world. Motiva also estimates that these systems could be made up to 30% more efficient.
Converted to money and CO2, the percentages correspond to a stunning 160 billion EUR and 550 Gt globally. These quantities are 2.5 times Finland's annual government budget and 45,000 times the annual emissions of all domestic travel in Finland. Replacing outdated devices in industry could reduce global CO2 emissions by up to 1.5%. Dynamic simulation is an effective tool for meeting this goal and prioritizing the replacements.
Lower emissions mean higher profits
From the perspective of a single industrial plant, improving competitiveness by enhancing energy efficiency and reducing the carbon footprint is vital, since purchasers in the industry pay increasing attention to the CO2 emissions of their subcontractors. Also, investors have started to consider these factors, which is why industrial companies with the best CO2 reduction strategies can obtain capital from the market easier and at a lower rate.
Moreover, dynamic simulation works as a sustainable tool that takes lifecycle costs into account and thus assists the decision-makers responsible for equipment purchases. "Our Digital Twin is scalable and a relatively effortless way for optimizing procurements in a company", states Lukkari.
The joint development project helps both parties to gain a foothold on the global market. ABB can offer the simulation to its end customers as part of a service portfolio, and Semantum can create the software and provide the expert services needed for the simulation. Digital Twin is suitable for the energy industry, chemical plants, paper and pulp mills, metal refining plants, and more.
The pilot project at the Metsä Board Simpele cardboard factory has now reached a phase in which decisions on equipment procurement have been made and the simulated results can be validated in the actual process.
The highest savings potential is in industrial pumping
Perhaps the largest potential for savings is in outdated and overdimensioned industrial pumping devices.
A further calculation based on an estimate by Motiva assesses that this potential represents savings up to 160 billion EUR and 550 Gt of CO2 annually.
The savings achieved through the energy efficiency and lifecycle costs of modern equipment can reach up to dozens of percents per year.
The modern simulation-based approach jointly developed by ABB and Semantum enables a process plant to be optimized end-to-end for minimizing life cycle costs.